Having a surveillance system with security cameras can help a business save on insurance costs. For a business that serves the general public, a security plan with a good strategy can assist in preventing fraud. It can protect from false claims (made by individuals that assert slip and fall accidents), or even from those that will risk the repercussions of theft. False slip and fall claims, cost retail stores almost $30 billion a year, so it's better to stay on the safe side.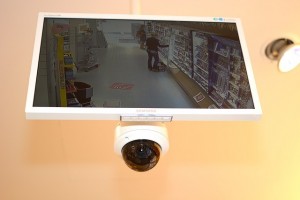 When these individuals allege slip and fall incidents, or say that an item has fallen on them causing injury, companies can spend tens of thousands of dollars dealing with the aftermath. Investing in a professional security system will cost just a bit more than buying some new pieces of furniture for the office, or using an automotive locksmith service for an employee who has a leasing vehicle.
In some cases, insurance companies might offer discounts to businesses that have high quality security devices in place. In other words, the cost of having appropriate security measures put in place is just a fraction of the amount that would have to be paid in case of a slip and fall lawsuit. Being able to prove that the claim is false would become the most important thing in such case. Last but not least, a security system will also help to decrease the cost of theft and losing merchandise.
Keep a Camera on Cash Register
Retailers and any business with a cash register should keep a camera on the cash register. This might be the one thing that tends to be overlooked when thinking about company losses – theft made by employees. Although it doesn't happen in each and every business, it is good to have evidence on the till when trying to figure out a discrepancy in numbers.
It is always better to have hard evidence that everyone can see, rather than an eye witness, as studies have shown that an eyewitness' statement is not always reliable, especially in times of stress.
Cameras placed strategically all around the business can have the entire facility covered, and this can reduce the risk of shoplifting and theft. In addition to having cameras, a good idea is to have a monitor that customers can see themselves in, and know that they are being recorded.
Implement Surveillance Systems
Implementing security and surveillance systems can reduce insurance premiums and help prevent false injury claims. As much as business owners would like to think that they know what is happening at their business at all times, it never hurts to have a camera "watching" the store all the time.
Having a security system installed is a cost that can potentially save the business tens of thousands of dollars, if a person decides to file a false slip and fall claim. It can also deter potential shoplifters. It would be wise to contact a business security professional to determine what kind of surveillance system would benefit one or another business and fit into its owner's budget.