There's big news for investors who are eager to earn high returns from the price of gold in the near future. The age of the Petro Dollar may be coming to an end thanks to a new gold exchange in China.
In fall 2017, China launched an oil futures contract in Shanghai traded in yuan. It's a sign that the rules of global oil trade may be about to change with a dramatic shift away from the U.S. dollar. All of Saudi Arabia's oil is currently priced in USD, along with most other oil-producing countries (except for those under sanction, such as Iran and Venezuela).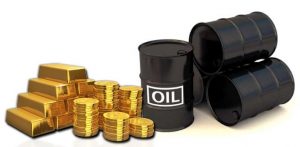 China is now the world's largest importer of oil and with their auto sector ramping up production to 30 million cars a year, it looks like they are only going to solidify their new position ahead of the U.S. in the coming years. That means China could be in a position to essentially force Saudi Arabia to start pricing oil in yuan, with the rest of the world following suit.
Big news if you're investing in oil futures, but what does it have to do with gold? Knowing that traders are reluctant to take payment in yuan, China has already set up a yuan-for-gold exchange. They're essentially offering gold-backed yuan as they push for oil traded in yuan. As long-term gold investors know, any move to re-establish gold-backed currencies is going to move the price of gold up – especially with the side of effects a PetroYuan would have on the U.S. dollar, including about $800 billion in transactions moving out of USD. When the USD loses value, investors flock to gold.
If you're looking for tips for increasing your wealth, invest in gold before the gold-backed yuan becomes the new petro-currency. China has spent the last 4 to 5 years building its gold reserves and it will continue to drive demand for gold bullion if its plan succeeds. It's a good time to invest in gold with a very positive short to medium-outlook.
Gold coins and bars are the most reliable way to start investing in gold, but the key to improving your return on investment is keeping premiums low. Online gold dealers like Silver Gold Bull typically have lower premiums thanks to their lower overhead. If you're worried about the safety of having gold delivered, find a gold dealer that sends packages insured and delivers themin discrete packaging – so no one knows that it's gold being shipped. You can also use allocated storage from a company like Silver Gold Bull, which may be even safer than keeping it in a bank. When you deposit your gold at a bank, the product you put in is not necessarily the product you take out. They record the quantity and type of gold you deposit, but it's stored commonly. That's additional third-party risk that many gold investors want to avoid in the first place. Allocated storage is like having a personal vault, secured and insured away from your home to discourage burglary. It's the safest way to store your gold while you wait for prices to respond to major shifts in the global economy like China's move to price oil in yuan.
Reputation is everything in business, which is why you will want to ensure your brand is continually painted in a positive light. However, it can be easier said than done, as you could experience negative online reviews, the wrath of a disgruntled member of staff, or slander against your business's good name. Protect your brand by finding out how to protect your company's reputation in 2018.
Manage Your Company's Online Reviews
Are you aware that approximately 88% of consumers trust online reviews as much as a personal recommendation? You must, therefore, proactively manage your online reviews to reduce the amount of negative comments related to your brand, so your TripAdvisor, Trust Pilot or Glassdoor profile is full to the brim with glowing reviews about your products or services.
Care for Your Personal Brand
When your business is getting off the ground, your name will more than likely appear more in Google than your brand's name. It is critical to care for your personal brand, as you could deter potential investors, employees, or clients, which could have helped your business grow from strength-to-strength. So, view your personal brand as an extension of your business.
Launch a Defamation Case
It only takes one false negative statement to significantly harm your reputation and, as a result, your business. Don't sit back and allow an individual or company to tarnish your good name. Fight back to restore your reputation by embarking on a defamation case. Do everything in your power to prove a false statement has been made against you, and provide evidence on how the defamation has negatively impacted your business. For example, you can gather witness testimonials and circumstantial evidence. You could also hire the professional services of a computer forensics specialist to extract and analyze evidence, which they can support with a report and expert testimony.
Secure Your Data
Cybercriminals are using increasingly sophisticated tactics to gain access to a company's network and files, which could pose a serious risk to your data security. Loss, theft or destruction of employee, client and customer information will not only result in legal and financial repercussions, but it will also negatively impact your brand's reputation, as people will be less likely to trust in your products and services. Unfortunately, this could signal the end of your company. For this reason, you must effectively secure your data to increase trust in your brand and protect your reputation.
Set Up a Google Alert for Your Brand Name
A business owner has a responsibility to pay close attention to comments and press regarding their brand online. Never miss an article or comment by setting up Google Alerts with your brand name, so you will receive a notification for stories as they are published, which is an effective form of damage control. Once you have received a notification, you can act quickly to potentially remove any negative stories regarding your company. Don't forget to set up a Google Alert for your personal brand, too.
The first rule with investing is always, "Don't lose money" which is often forgotten by first-time investors who have a little money that they've saved and wish to invest it. The second rule is usually, to never forget rule number one. Beyond that, it gets more complicated!
Here are a few investment tips for beginners who are worried about losing their investment capital.
Never Invest in Anything You Do Not Understand
Not investing in something you do not understand is more easily said than done, but it's a very sound philosophy and one that's shared by the folks at dividendmantra.com too. The idea is that you should stay in cash until you are sufficiently educated yourself to understand the investment well enough to put money into it. When you don't know what "money market instruments" are, you shouldn't buy any of them.
While your cash may not return well against the ravages of inflation, it is still safer than putting your hard-earned money into something you don't understand and losing it all. In fact, that could put you off investing ever again which would be a crying shame.
Avoid Reaching for a Higher Yield
While receiving a pleasing income from your investment every month, quarter, bi-yearly or yearly is nice enough, trying to get a higher income often ends with buying into fallen stars that are about to die off. When a company gets some bad news, and declines in price heavily, its cash dividend payout when compared to its new, lower stock price, looks juicy. But it can spell the beginning of the end. You can see this when looking at the higher yielding investments paying over 10 percent which are either in cyclical industries going through a downturn, companies losing money faster than ever, or ones that have just been hit with a large legal judgement.
Always Do Your Due Diligence
Most investors don't understand their investments, make no attempt to correct that problem and cry havoc when their investment portfolio tanks. The practice of buying index funds at any price is a case in point. Buying a good investment at too high price doesn't make sense, whether through an index fund or with a company stock. At a certain point, there's too little value there and the investor should walk away. Index fund investors fail to consider this at all.
With any type of investment, it's important to thoroughly investigate it before putting money into it. It doesn't matter whether it's a company stock, a preferred stock, a mutual fund from Vanguard or an ETF from Schwab. You have spent considerable time earning the money, saving it and then planning to invest it, isn't it sensible to check that you're not throwing it away on a lousy investment?
For new investors, they're best advised to study investment websites and to read a collection of good books about finance. These should be general investment ones like those by Jack Bogle of Vanguard, and any book by David Swensen of the Yale Endowment Fund. Beyond that, it's useful to study specific asset classes – different investment types – to clearly understand how they are different. There are pros and cons with every investment class and it's important to know what these are.
More than frequently, I've heard my mom say … "It's only the 28th. Well, a low bank balance towards the close of the month isn't a genetic criticism, but one. Working the complete month and anticipating a paycheck is a regular feature. Nevertheless, the ironic part is that after waiting so eagerly, the sooner it comes in … the earlier it's out! At the start of a month, we all have specific duties to execute, like credit card dues, store and gasoline bills, tuition fees, loan repayments, medical and grocery requirements, etc. Now, what will happen if a crisis arises, particularly towards the month end? Alternative: "Say hello to Payday Loans!"
Click Here To Apply For a Payday Loan Today and Get Cash Fast!

Payday Loans are short term unsecured loans. Hello are used to bridge the financial gap between two consecutive paydays. Payday Loans act as a supply of fast cash for short term financial crises which could arise in the end of the month when we've got a minimal bank balance for assistance. All of us may not always have fiscal reserves that could help us out of such positions. Payday Loans are especially created for individuals like us. Payday loans may also prevent consequences like bounced check fees or late payment charges. Being unsecured, payday loans are also great for all those people who have security or no collateral to provide, like renters, students and other non homeowners. Credit history also, does not have any part to play in the acceptance of such loans. Payday Loans made accessible online (over the internet) are referred to as Payday Loans Online.
Important notes on Payday Loans Online:
– It follows they do not require any type of security or collateral to assure repayment.
– Payday Loans Online are readily available for amounts which range from $100 to $1500. The can also extend depending on the lender and also the borrower's affordability.
– Payday Loans Online are available at high interest rates. The lender are temporary, so lenders try by charging high interest rates to cover the price and risk of financing.
– By utilizing the online procedure for application, a lot of valuable time can be saved by an applicant. He can apply for his loan there and is able to access several lenders in the same time itself. There is also no paperwork associated with the internet loan procedure.
– A cash advance gets approved within 24 hours and also the loan amount is transferred directly in the borrower's bank account by the following working day.
– Payday loan acceptance does not require a credit check and is very fast. Therefore, people who have defaults CCJs or poor credit may also apply with this loan.
You're treating yourself to innumerable benefits while using the internet facility Online. From the luxury of your house, it is possible to proceed through loan terms infinite loan companies and quotes, you apply for it, can shortlist your choice and send it to the lender. Lenders, on reception of your application can there the luxury of your home check your details, verify your current, valid bank account and your employment details. The lender approves your loan as well as the cash is in your account, the next working day. Occasionally your loan approval takes only a short while! Incredible correct??? Some online lenders are untrustworthy. Just remember: they can take cash from your account just as readily as they put it in. Make sure you measure the expenses and benefits of choices and you will definitely end up getting getting the online pay day loan that is finest.
Running your own business often involves a lot of work done on a computer nowadays. Even if your company's operations have nothing to do with computers or the Internet, you'll still find both playing an integral role in the way you're managing everything. Becoming accustomed to the way they work is a must, and knowing what a modern computer can do to help keep your business running smoothly can be of great benefit.
Time Tracking
If you're billing your clients by the hour, a tool that tracks the way you're using your computer is going to significantly cut down on the amount of guesswork you have to do at the end of each billing cycle. It'll be fairer for your customers too, and all in all, it's one of those things that you simply won't be able to live without once you've integrated it into your life.
Modern time tracking software can be very comprehensive and it can give you an overview of your activities broken down to the millisecond. All good tools integrate well with popular browsers too, so you'll not only get an overview of what applications you're using but also which sites you're visiting and how much time you spend on each of them.
Backup and Recovery
Keeping your data safe should be one of your top priorities, especially if you rely on that data for your long-term work. There are many tools that can get the job done for you, and you should familiarize yourself with several main categories. Data recovery software is something you should never have to use, but if the need for that ever arises, you'll be thankful you have something like that handy.
A good disc burning application is a very valuable asset as well – just check out a DVDFab review to see how much the tool can do for you, as an example. Transferring data between different discs and keeping your data nicely organized in historic backups can become a piece of cake when using a tool like that!
Communication
Last but definitely not least, you should have a good solution for internal communications. Things like Skype can work up to a certain point, but after that, you're going to want to look into a more comprehensive solution.
Slack is a popular choice for many enterprises, and while it can take a while to get used to it, it's one of the best ways to keep communication flowing smoothly between all team members. The huge community around it means that you'll always be able to find a solution to your problems without having to search too long.
There is a lot to gain from exploring the modern software market as an entrepreneur, and you'll quickly find various tools that can make your job significantly easier and more streamlined. That way, you'll be able to focus on what truly matters – ensuring that the company is run properly from top to bottom, and paying attention to the smaller details that constantly pop up around you on a daily basis.
Choosing a career is now more complicated than ever. There are new career paths that you can choose to pursue, each with its own rewards and opportunities. As businesses expand their operations and try to keep up with market growth, you also have more opportunities to start a career in various fields.
So, which career is right for you? Should you choose a career based on the salary? We are going to answer these questions and figure out the best way to pick a career path in this article.
Salary Matters
Many experts and motivators will tell you that you must never choose a career based on the salary. After all, earning a big salary doesn't do you any good when you don't even like the field you are in, does it?
Unfortunately, choosing a career path isn't as simple as going with your passion. There are other aspects to consider, including the median salary and possible financial future you can expect. Salary matters; how much you earn when you enter a field or start a career will determine how much you earn by the time you reach the top.
There are more resources to help you figure out the expected median salary of a profession too. You can visit sites such as Salary Site and learn more about the medial salary amounts you can expect at every stage of your career.
Other Things to Consider
What you must not do is make your career decision based on salary and nothing else. As mentioned earlier, choosing a career involves taking all factors into consideration. Aside from the salary you can potentially earn, you also need to see if the field or the job you're applying for suits your personal interest.
Working in a field you are passionate about allows you to produce better results. This is a positive thing for your career, since your constantly high performance will get you to higher positions sooner than you think. Don't forget to check if the position aligns with your skills; you need to have the right skills to be able to perform well on the job.
Lastly, make sure you have enough room to grow on the job. To secure a bright career, you must be able to develop yourself, acquire new skills, and earn valuable experience along the way.
Making the Decision
Before you finalize your career decision, there is one more thing you need to return to: your values. Some jobs require you to complete tasks that go against your personal values; you will end up not being able to perform as well as you can or having to break your core values to excel in your career. Why put yourself in that situation when you can get a rewarding job you really like?
The market is expanding rapidly and there are more opportunities to pursue today. There is no need to worry about not being able to find a job with good salary, great work environment, and a lot of opportunities to grow. You just have to consider the right things when choosing your career; that's all.
On the Internet you will find lots of financial advice regarding earning and spending your money. If you already have found a way to earn your money, now you might be looking for some practical advice regarding spending it. With confidence, I can say that spending money is as important as earning it, or maybe even more important. If you know how to spend what you have earned and you are proud of it, you are on the way to financial freedom. I would like to share with you some of the practical advice that I follow that helps me to be always debt free:
1. Only spend the money you have unless you are buying a house or want to invest your money into something that is guaranteed to yield long-term earnings. Everything you buy and wherever you go, make sure that you have the money to afford. Don't go on holidays on borrowed money, and don't buy a car on credit. Cars are not good investment and their value depreciates the moment you buy it.
2. Do not overlook the possibilities that come with renting storage units Louisville. They are like having an extra room in your house, but without all the responsibilities of cleaning it and keeping it safe. Somebody else is obliged to take care of that for you so all you have to worry about is making sure that you get there as many belongings as possible.
3. Realize that spending your money is your responsibility and not somebody else's. It is up to you to decide how you want to manage your money, and you shouldn't blame anybody else for the mistakes you might be making regarding spending what you own or not own yet. Being able to spend your own money is a very powerful feeling that can add you a lot of confidence.
4. Use common sense while planning your finances. Reckless spending does not sound like common sense to me and it always or almost always leads to bankruptcy. Even having a lot of money doesn't mean necessarily that you have to spend it all at once.
Are you struggling to gain control of your personal finances? Well, all hope is not lost, no matter how much debt you have to contend with or how much you love to shop. Check out the money-saving tips below so that you can finally take charge of your finances and feel more financially secure.
Shop Smarter
You do not need to buy every designer item that hits the market or the latest tech gadget. After all, those items add up and there are always new offerings at every turn, so why spend all of that money on something that will be obsolete in no time? Instead, shop smarter by checking various websites for deals. And there is no shame in purchasing a gadget that is a little bit older than the latest model or buying an item that has been used by someone else. In fact, with resources like Zoom the List, you could more easily search through Craigslist to find what you need at a great price.
Limit the Number of Credit Cards in Your Wallet
In addition to shopping smarter, it is also wise to limit the number of credit cards that you use on a regular basis. Sure, a store card here and there could help you land some great deals on things like clothing and accessories, but if you have a lot of credit card debt and that debt is accruing interest every month because you can't pay it off, you will be in trouble for a long time. So, choose one card that has a decent credit limit, a low-interest rate and low fees, and great rewards. Cash back rewards are particularly beneficial because it's like getting a little discount on every purchase, as you could redeem your points for cash when you pay your bill.
Learn About Personal Finance
Finance, like all other things in life, is something that could be difficult to understand at first. But the more that you read about it, and the more that you hear experts talking about it, the easier it will be to not only understand your finances but also manage them better. So spend a little bit of time every week searching for helpful books, articles, and presentations on the topic of personal finance. The more you know, the better equipped you will be to take charge of your own financial future.
Reduce Your Spending for One Month
Finally, consider cutting your spending and boosting your savings for just one month. In 30 days, you could make a big difference in your finances by making small changes to your lifestyle. So cut out things that you don't really need, like eating at restaurants or purchasing coffee at Starbucks. Little changes will quickly add up and you could end up putting more money aside. Then you could continue implementing those habits to continue saving money in the future.
With the tips above, you could take charge of your finances over time, getting yourself out of debt and having a more solid financial base for your future.
Between the different investment opportunities and the hype behind cryptocurrencies, a lot of people are getting into trading more seriously these days. There are more tools to help beginners start their journeys into the world of online trading too.
As a more experienced trader, sharing your experiences about trading and the hustle and bustle of it is something worth considering. There are a lot of benefits to be gained from blogging about trading and we are going to discuss some of them in this article.
A Chance to Grow
You don't have to be an expert about trading to start blogging about your trades; as a matter of fact, you shouldn't. Blogging about trading isn't always about being right all the time or knowing everything there is to know about trading.
Your focus is sharing your personal experience; "personal" being the primary keyword here. People what to know about your personalized journey and how you make your trades. That level of personal experience is what gets readers interested in the first place.
As you share more, you gain more opportunities to learn and grow. You'll start seeing more experienced traders chiming in and giving their inputs. You will also have more insights and the points of view of your readers in the process.
It's Easy to Get Started
There is actually no reason why you shouldn't document your trading experience today. Starting a new blog is easier than ever. You can establish a new domain name and hosting account, and then have the blog established in a matter of minutes.
Thanks to resource centers such as Hosting Kingdom, you have the ability to find a suitable hosting service that doesn't break your bank. You can get the site up and have all the features you need to run a professional blog.
The rest is easy from there. You can start writing short posts about your trades, the tips and tricks you gathered from experience, and tidbits about trading that you think other readers will find useful. You'll amass a lot of avid readers before you know it.
Good Personal Branding
There is another big advantage you get from blogging about your trading experience, and that is the opportunity to develop your own online branding. Creating and maintaining a strong online presence is very important these days, both as a professional trader or an expert in this field.
That strong online presence will lead to a lot of other opportunities. You can grow strong social media followers and start getting paid to post advertisements. You also have the option to monetize the blog and start earning ad revenue from various sources.
The revenues you generate from the blog are useful for expanding your trading and taking it to the next level. You may even have the chance to increase your trading margin and have the ability to try new strategies or explore new investment opportunities in return.
So, what are you waiting for? Start blogging about your trading and develop a stronger online presence in the industry today. The benefits are too good to miss if you are serious about becoming a serious trader.
The average career in professional sports lasts five years. It takes many years of hard work, sacrifice, determination, perseverance and a touch of timing and luck to land a contract with a professional sports team, and the glory lasts for a relatively short time in the grand scheme of things. There is a lot of money to be made in a very short period of time with a pro sports team, but very few athletes prepare financially for life after they are off the field or court for good. Here are some ways to set up and protect precious assets after retiring and transition back to the regular world.
Accustomed to being in the limelight, some pro athletes find jobs that keep them closely linked to their former sports teams. They may take jobs in sports marketing and management, broadcast journalism, or sports reporting or commentating. Others go on to have successful careers as actors, comedians or singers. The vast majority of former professional athletes step out of the limelight and fall back on the degrees that they may have obtained in college. A small percentage of former athletes go back to school for something entirely new, start an entrepreneurial business venture or fully retire to spend time with family and friends.
Whether they choose to live off of the accumulated earnings from their career as a professional athlete or change jobs and continue to earn money each year, it is vital to enlist the help of a financial advisor to assist in managing the assets and investments for long-term growth. Professional athletes typically have a considerable amount of money that needs to be managed, and that wealth needs to be placed in the hands of a trusted and respected financial advisor. Some choose to utilize the same financial planners that their former teammates hire. Others prefer to take charge of their financial portfolio, do their research and enlist the help of a professional advisor who welcomes a hands-on approach to wealth management. Fortis Lux, https://fortislux.com/pro-athletes/life-after-sports/, is an example of a firm specializing in the financial planning for professional athletes and other high-profile, top-earning professionals in various other career fields.
Wealth management is arguably the most important way to secure the assets and financial future of a professional athlete after retirement. A trusted advisor in financial planning will create a portfolio that reflects the specific long-term goals of the athlete.